Coffee Survey No. 2: Best Coffee in West Vaughan

We admit it: BOOM Breakfast & Co. loves coffee; and we'd love for you to come in and sample our hand-crafted espressos, cappuccinos, lattes, and Americanos. We guarantee you'll love them.
Our beans are the highest-grade Reunion Island Coffee has to offer. We guarantee the best quality coffee experience every time you sip your Java at BOOM Breakfast & Co.
We realize that you can't come to BOOM every day for your coffee, however. We love when you do, but we're realistic (okay – more like disappointed). The point is – you deserve great coffee every single day, every single cup.
Don't settle for second (or third) best. You deserve the best of the best.
If you live in West Vaughan you don't have to settle – ever. Last month we published a list of great cafes in Toronto. We also have a restaurant in Vaughan (Rutherford and Weston); and so, for those Vaughn-sters who love their coffee, here's our second Coffee Survey .
The West Vaughan coffee scene is tied into the Italian café/bakery scene. It's different than downtown Toronto, with its more hip-trendy vibe. These places are homey, and they combine coffee with delis, sandwiches, pizzas, and baked goods. The coffee and the café should be seen as part of the experience, rather than the entire experience itself.
We focused on the espresso and espresso-based coffees. You're cheating yourself if you settle for drip in these places. All are adherents to the Italian style – and as for many things, especially coffee, this is a very good thing.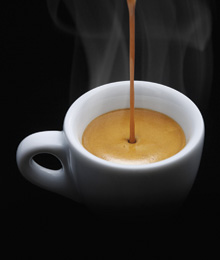 In no particular order in terms of quality or preference:
La Paloma Gelateria and Café (Weston and Hwy 7) has a serious reputation for gelato. We don't want to get into a best-gelato-in-the-GTA debate (sounds like a good idea for another blog, however), so we'll leave it there. The store is very bright and spacious, with ample windows around the front. A huge counter displays all the gelato you could eat in 100 lifetimes. The atmosphere is conducive to a quick drink, a chat, and then on to the next stop.
But the coffee should not be short-changed. It's simply a very good cup. The espresso is aromatic, with a rich taste and a dark crema. The finish is clean – no burn – with hints of chicory and cinnamon, but nothing overpowering. La Paloma produces a very clean, very concise, espresso. The cappuccinos and lattes are very good, as well. Nice foam, with a pleasant consistency.
This is a solid café. You can't really go wrong at La Paloma.
St. Phillips Bakery (Rutherford and Islington). St Phillips has two locations, but this is the flagship, a truly wonderful mix of delicatessen, bakery, and café. The bread is baked on premises, and there's a wide array of hot and cold food. Lunch is a very good idea at St. Phillips. There's a great buzz, lots of action – a definitely awesome spot to hang out in .
Do not leave without trying their cannoli. Seriously. Don't do it. You'll hate yourself.
The coffee plays a major part at St. Phillips. The café section is on the upper level (there's a cozy gas fireplace in the winter). It's small, but well lit and pleasant, about ten tables. Their espresso machine most definitely occupies center stage. It's a true beauty – dead centre so you can't miss it.
Their espresso is less aromatic than others, which is offset by a stronger taste, but there's no trace of bitterness. The finish is there – you'll know you had a quality cup – only it doesn't linger and the taste is pure Italy. The crema is lighter than typical, which given the strong taste means it adds to the flavour rather than conflicts with it.
Joseph Bozzo, his son Robert, and his brother-in-law Lucio Rea have been serving great coffee at St. Phillips for over 20 years, and we hope they keep going for 20 more.
And we're not kidding about the cannoli.
Emily's Bakery (9591 Weston Road, north of Rutherford Road) continues in the Italian bakery tradition, with more of a kitchen orientation – wood-burning pizza oven, veal sandwiches (and other hot items), a small bakery (where you can slice your own bread with a real machine!). It's less formal than La Paloma or St. Phillips – still very pleasant, though, with a small eating area up front.
Sounds great, I hear you cry. But what about the coffee? Glad to report the coffee is top notch. It features a dark crema, which speaks to a stronger, more complex, richer taste, with hints of cinnamon and hickory, and a slight acidity – but in a good way. This is a mouthful, in other words – a nice one, at that. The cappuccinos provide a similar profile, with the espresso expressing itself nicely. Nothing worse than a glorified cup of milk masquerading as a cappuccino. Definitely not the case here. The stronger brew also makes their Americanos a delightful experience.
La Perla Bakery (125 Hawkview Blvd, just north of Rutherford, east of Weston Rd) is a hidden gem, tucked into the corner of a small mall that runs along Vellore Woods – famous for leading to Canada's Wonderland. It's got more of a Euro-café vibe, with bright red accents throughout and funky black chairs. The usual combo of Italian baked goods, sandwiches, pizza slices, and a small deli counter are there, as well.
Their espresso falls on the lighter side of the spectrum, with a sweet bouquet and caramel colouring and taste. The crema is dark, but not dense. No bite going down, which is great if you don't like any hint of acidity in your coffee. This is a very drinkable cup, all the way to the bottom. You also get a very cute biscuit with every drink. The cappuccinos are solid, well formed, not too dense on top. If you like a strong Americano, ask them to pour you a longer shot so the flavour stays true to the quality of the coffee.
Finally, a shout out for La Perla's awesome logo. She's the well put-together, shapely lady you see below. Don't forget to salute her as you leave.
Nino D'Aversa Bakery (3100-3140 Rutherford Road, north-west corner of Jane and Rutherford) probably deserves the iconic label when it comes to the GTA's Italian bakeries and cafés. There are five locations to choose from, all north of the 401. This is a big place, with all the classic menu items, including pasta, pizza, Italian desserts, gelato, etc. The seating area is big as well, but it gets busy, especially on weekends.
The espresso features a light, bubbly crema, brown in colour, with a light, even aroma. The flavour is clean and crisp, slightly acidic, and leans toward the dark cherry and chocolate  – no hint of caramel. There is a satisfying bite on the way down – you'll know you've had a coffee here as well. This ain't your Tim Hortons dishwater. This is real coffee.
Pronto Café (9222 Keele Street, at Rutherford Rd.) is old-school. If you crave the small, owner-operated café, where real people hang out for a coffee, a sandwich, or just to talk, then you should definitely give Pronto a try.
You'll get a light crema at Pronto, even coloured, with perfect density. The aroma is sweet and pleasant. Worth leaning the nose into this one (do we really have to say not all the way in – really?)
Pronto features the strongest tasting espresso of the bunch, just ahead of Nino D'Aversa's, with a definite chocolate orientation. There's some acidity, and the after-taste lingers. This profile works splendidly with the cappuccinos and lattes.
If it's old-school authenticity you want, then take a moment and pop into Pronto Café – and enjoy.
Great coffee is not a luxury. It's your right. So exercise your rights and come in to one of BOOM Breakfast & Co's four locations and enjoy a fabulous espresso, cappuccino, latte, or Americano – whatever coffee your heart desires – or on the off-chance you can't get to a BOOM, then try a coffee at one of these West Vaughan café hotspots.
BOOM Breakfast & Co – where Friends and Food Collide